Breath Awareness Training: Level I
Do you feel your breath is caught in a shallow pattern? Are you a teacher, massage therapist, acupuncturist, nurse, yoga instructor, psychotherapist, or other provider?
Yes, this is the class for you! Breathing Mandala's Breath Awareness Training is geared towards supporting lay people and providers to understand the breath and know how to open it.
It is likely, as a provider, you already have experience in the challenge of getting through to a client who is shut down from anxiety and/or stress. Through this course Tracey and Dave will teach you how to efficiently open the tension in the breath in order to effectively administer the healing/change-making work. As a lay person, you will come to understand the breath and know how to keep it open.
During this three-day course you will:
Experience clearing your own breath pattern(s),
Learn to identify different breath patterns with hands-on experience opening them,
Learn about the impact of thought on breath patterns,
Delve into the Anatomy of breathing, and
Explore the larger framework of supporting clients in finding their true nature.
You will receive an extensive manual to support your learning and provide take-home information that you can employ in your practice. 18 CEU credits are available according to WA standards (please inquire if you would like to know more about receiving CEU credits).
To register for this training a $300 Deposit will hold your space. This training is limited to 10 people. Ongoing mentoring is available to course participants in 3-, 6- or 9-month increments. Contact Tracey via the form below or call her at (206) 769-0040 to get more information.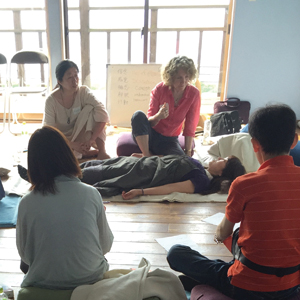 Inquire about a Breath Training